10.20.07 West Coast Graffiti Party @ Crash Mansion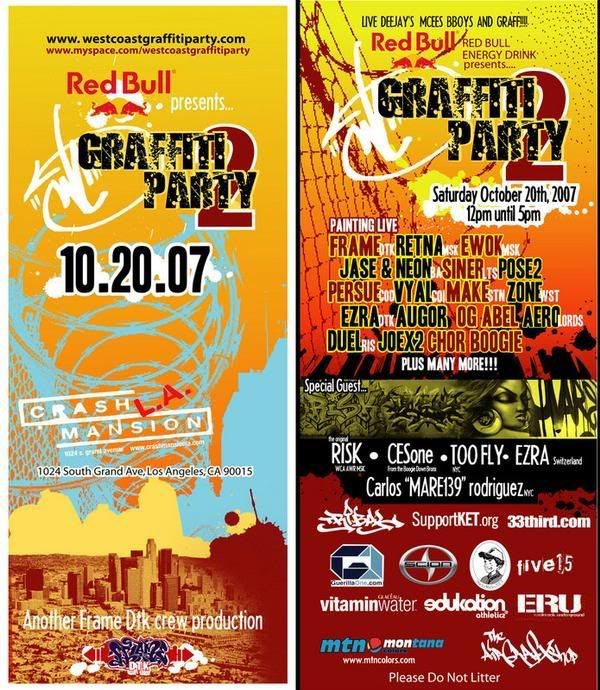 LOS ANGELES- The second annual West Coast Graffiti Party Sat. Oct. 20, 2007 from 12pm to 5pm, happening at Crash Mansion LA, 1024 S. Grand Ave. in Downtown LA.
www.westcoastgraffitiparty.com
The West Coast Graffiti Party features the best of the best graffiti artists from the West Coast including artists from other major Cities and Countries. Live graffiti artists include Frame DTK, Ewok MSK, Retna MSK, Jase & Neon BA, Siner LTS, Pose 2, Vyal COI, Make STN, Zone WST, Ezra DTK, OG Abel, Aero LORDS, Duel RIS, Joex2, Risk AWR, Ces one Bronx NY, Toofly NYC, Ezra Switzerland, Carlos "MARE" Rodriguez NYC, King 157 San Jose, plus many more. These graffiti artists are top notch in the graffiti art realm. Come experience technique and wild styles, creativity and color, sight and sound of rattling spray cans. There will be painting live on canvas and concrete walls to an audience of 1000-1,500 people from all walks of life.

The West Coast Graffiti Party's focus is large scale live graffiti works by the best of the best which will also feature framed art works and photography by some of LA's best Graffiti artists and photographers such as Eriberto Oriol, Create RTN, Frame, and many more. The patio at the Crash Mansion will be alive with colors and aerosol magic. CES one, Risk, Toofly, Ezra, and Carlos "MARE" Rodriguez are our featured graffiti artists this year. Everyone wants to be part of the West Coast Graffiti Party as it's organized by one of Los Angeles Graffiti Legend Frame DTK, therefore we expect special guest performers to show up and show love from well known MC's, DJ's, BBOYS, and BBGIRLS. In addition, most youth today really love to express themselves through many different mediums. The most popular today is spray paint. Unfortunately there are very few to NO PROGRAMS available for young artists to express themselves to create aerosol murals in the City of Los Angeles, which is known to be the Mural Capital of the World.
Our event will be a great opportunity to prove to the Media, the public at large, and officials that graffiti is more than just vandalism. It will also be a great opportunity to create dialogue. WCGP will show what is possible IF given the chance to be free to create. Hopefully this event can give an opportunity for future programs and access to walls for our youth to be free to create murals in and around our City.
The show is open to the public, all ages. The cover is $5 at the door. For more information please visit www.myspace.com/westcoastgraffitiparty or www.westcoastgraffitiparty.com.
ABOUT CRASH MANSION:
In a space once occupied by the historic Myron Ballroom, the Bowery Restaurant group has transformed this 1940's swing club into a state-of-the-art, three-part performance haven. An 8,000 square-foot main stage accommodates headliners with lofted ceilings and a fully digital sound room, while two adjacent rooms–the Burn Lounge and the Foyer Gallery–cater more to low-key performers and the local artist scene. With five bars, three distinct atmospheres, and a fully operative kitchen, this industrial chic club caters to the rich diversity of art and music lover in Los Angeles. Crash Mansion LA is located at 1024 S. Grand Ave. , Los Angeles , CA 90015 (at W. Olympic), phone number is 213-747-0999. Parking runs $5-$7 at two lots adjacent the club or there is ample free metered parking on Grand Ave after 6pm . For updated information go to: www.crashmansionla.com