One of the most rewarding aspects of making "Bomb It" was meeting incredible people all over the world. One of the most extraordinary people that I met was Tony Silver. He was a wonderfully generous and extremely talented filmmaker. It was astonishing how many artists we interviewed in foreign countries gained their first exposure to graffiti through "Style Wars". These artists and writers cited Tony's film as the key turning point in their lives – showing an alternative way of life and expression they did not know was possible.
Through their film, Tony and his friend and collaborator Henry Chalfont almost single handedly helped spread the art of graffiti throughout the world. By fostering an art form that has become one of the largest the world has ever seen, Tony achieved a world-wide impact most filmmakers only dream of.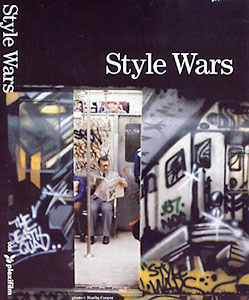 The following was posted on The Daily Swarm by Mare 139:
Tony's daughters Mariko and Nini and his wife, Lisa, asked me to
forward this notice and invitation to his Style Wars friends.
As many of you know my father, Tony Silver, died surrounded by family
at his home in Los Angeles on Friday February 1, 2008. His passing
ended a courageous two and half year battle with brain cancer, a
disease which he defied longer than anyone thought possible.
Thank you for your warm words of love and support. They mean the world.
For those of you in the New York area, we will be holding a remembrance gathering at 4pm Saturday February 16, 2008 the New York Society for Ethical Culture:
4 PM, Saturday, February 16, 2008
New York Society for Ethical Culture
2 West 64th Street
New York, NY 10023
Also for those of you who expressed an interest in making a donation in my father's name, we have selected
(Out)Laws & Justice (https://www.outlawsandjustice.org/), an organization close to my father's heart.
(OUT)LAWS & JUSTICE is a nonprofit organization dedicated to
supporting students ages 11 to 14 discover their role in creating a
just and civil society by examining the roots of violence and
conflict-resolution skills to deal with disputes.
Please feel free to share this information with others who might like
to join us on February 16th.
www.12ozprophet.com/index.php/mare_139/entry/tony_silver_rip_2008/
You can leave condolences on the Style Wars myspace page too.